Be-Ge Seating A/S develops and manufactures high- quality, M1- approved car seats for the automotive industry.
Be-Ge Seatings range of products consists of driver seats, passenger seats, office and 24-hour operator chairs and sound absorber system.
Supplier of M1-approved seats of the highest safety standard and quality. Be-Ge Seating A/S is a manufacturing company situated in  north-western Denmark. We develop and manufacture M1-approved car seats of the highest quality as well as speciality products for the automotive industry. Our company motto, "Seats for Life", permeates everything we do. We focus uncompromisingly on safety, quality and flexibility and on developing customer-specific solutions.
Be-Ge Seating A/S has always been a company in development. The company was founded in 1963. At that time, we were Jysk Autonyt A/S and we sewed upholstery for car seats. Since then, the company has moved with the times, developed and changed its name; in 2001, we became Be-Ge Jany A/S, part of the Swedish Be-Ge Företagen AB group whose main business areas included the manufacture of driver seats and office chairs. The Be-Ge Group is a family business with companies in Sweden, Denmark, Holland, England and Lithuania. On the Danish market, we distribute Be-Ge's driver seats for trains and trucks, as well as office and 24-hour operator chairs.
At Be-Ge Seating A/S, we leave nothing to chance, and all of our products are carefully developed, tried and tested to comply with the market's highest safety and quality standards. In 2014, Be-Ge Seating A/S invested in a new TÜV-approved test facility. We perform all tests according to EU directives on M1 vehicles and, consequently, comply with the most stringent safety requirements. With new technology and massive investment in product development and innovation, we always have an eye to the future and we specialise in solving our customers' most challenging problems. All documentation is uploaded to our website, which is of great benefit to our customers, enabling them to look over our shoulder and print out documentation easily and effortlessly.
M1 tests are the strictest tests a passenger vehicle can undergo. Seats with integrated seat belts are subjected to a demanding test procedure, which often exceeds current requirements. We test our seats in new vehicle models as they are launched. Therefore, you can feel absolutely confident when choosing a Be-Ge Jany seat. According to EU standards, an M1 seat must be tested together with legs, floor and vehicle. It is not sufficient to test the seat on its own. The seat, legs, floor and vehicle are integral parts of a system, and they interact in the event of a traffic accident. The collaboration between the vehicle converters and Be-Ge Jany's tested products ensures the safety of the seat user if an accident occurs.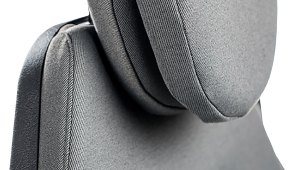 Be-Ge Seating A/S supplies approved seats to a wide range of vehicle manufacturers, both large and small. We can deliver to Citroën, Fiat, Nissan, Opel, Toyota, Peugeot, VW, Renault, Mercedes-Benz and Ford. Seats can be installed in minibuses and a wide variety of special-purpose vehicles, such as ambulances, police cars and wheelchair accessible vehicles, and we customise the seats to meet the special requirements of the individual customer. We are happy to help with installation instructions and fitting options to ensure that we meet our customers' requests and requirements. We have a long tradition of supplying specially designed upholstery solutions and can, for example, supply upholstery in a company's colours with a woven company logo. Due to the fact that we have our own development department and our own production facilities, and due to our ability to adapt quickly to change, we can develop and deliver approved, customer-specific solutions. Our staff are flexible and quick to adapt to new customer requirements, and they handle orders with the greatest care to ensure quality and delivery on time.
Be-Ge Seating A/S has a large and varied customer base in many different countries. We supply seats for:
We supply worldwide seating solutions